A huge number of people and organisations came together to make this project happen, with almost 10 years of work behind the scenes before the restoration work began. As well as thanking our funders, and all the community stakeholders without whom the project wouldn't have been possible, we would also like to thank all the staff who worked on the project in every capacity.
In 2012, a development grant awarded to Birmingham City Council by National Lottery Heritage Fund. The project delivery team consisted of BCC Inclusive Growth, BCC Project Delivery Team, BCC Bereavement Services, Landscape Practice Group, Acivico, Peter Vickers (Hilary Taylor Landscape Associates Ltd), David Lambert (Project Mentor appointed by National Lottery Heritage Fund), Birmingham Conservation Trust and the Jewellery Quarter Development Trust.
In 2015, National Lottery Heritage Fund announced the successful outcome of Birmingham City Council's application for the restoration of the Jewellery Quarter Cemeteries Project and awarded £1.38 million. With match funding from Birmingham City Council and the Jewellery Quarter Development Trust contributing to the total project cost of £2.3 million.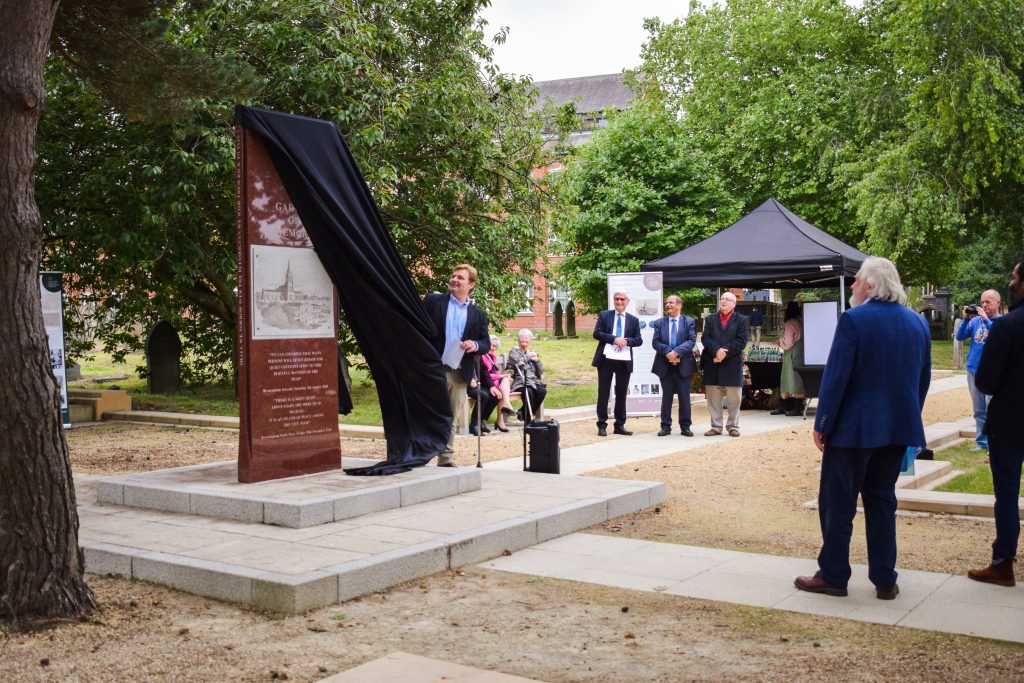 Work began in 2019. Phase One of Capital project works undertaken by contactors Midland Conservation Ltd and Oakham Fabrications, commenced within the two Jewellery Quarter cemeteries in July. Works included gates piers, walls, boundary railings, catacomb repairs and handrail. The Activities Manager was appointed in October and a programme of activities commenced in November.
In 2020, phase one of the capital works were completed, and phase two capital works commenced in January. Phase two works, undertaken by HFN Landscapes, comprising of landscaping, pathways, drainage and chapel footprint garden. Due to the Coronavirus pandemic, works that were due to be completed in 2020 were unavoidably delayed. Many activities could not be carried out due to lockdown and social distancing measures. Creative thinking resulted in an adapted approach to delivering activities throughout this difficult period.
Capital works were completed at the end of July 2021, including installation of the memorial stone with hand carved lettering by Bel Lapidi and engraved panel by A E Harris. There were also additional catacombs works that had not been incorporated into the initial programme. The Activities Programme continued the end of 2021 and many legacies of the project will continue into 2022 and beyond.
End of project speech of thanks by Josue Wall, Activities Programme Manager
I have had the honour of overseeing the Activities programme for the last two years, which has run alongside the restoration works. Everyday I feel grateful that the value of these cemeteries was recognised by so many people – both locally where they had many fierce and passionate defenders – and nationally with recognition by National Lottery Heritage Fund and Historic England.
The partnership between National Lottery Heritage Fund, Birmingham City Council and Jewellery Quarter Development Trust provided the funding for the incredible improvements we have seen at Key Hill and Warstone Lane. The contractors who did these works – Midland Conservation, HFN Landscapes, Oakham Fabrications and all the other subcontractors involved did fantastic work, sensitive to the place they were working in and I think everyone will agree that the results are brilliant.
However, without people to visit the cemeteries, to pitch in and help care for them, to continue to advocate for their future and to spread the word about their beauty, it would have all been in vain. So, I also need to thank many members of our community including the Friends of Key Hill and Warstone Lane Cemeteries, the Jewellery Quarter Research Trust, Birmingham Conservation Trust, Jewellery Quarter Neighbourhood Forum and the Jewellery Quarter Museums and Attractions Group plus many individuals without whom the project would never have been proposed or funded. I would also like to thank all the people who did planning, design and implementation behind the scenes including Birmingham City Council staff from Project Delivery and Bereavement Services, the Landscape Practice Group and Peter Vickers of Hilary Taylor Landscape Associates. I would also like to raise a special note of thanks to our own Queen of the Jewellery Quarter – the late, great, Marie Haddleton, who was a huge supporter.
I would especially like to thank everyone who has volunteers their time with me over the last 2 years, everyone who has attended an event or provided their expertise to help run one. I'd like to thank everyone who took a daily walk in the cemeteries during lockdown, posted a photo on social media or sat on our benches to eat their lunch. I'd like to thank the people who emailed me a question or stopped me in the cemetery to tell me a story. All of these things have made this job a dream come true, even if at times I thought it would have been easier to be buried here than keep the project going during a pandemic!
Thank you.