Some restoration work at Key Hill Cemetery had previously taken place between 2009 and 2012, including the restoration of the railings and Grade II listed gateposts around the cemetery. Therefore, the main focuses of the work for this project were the catacomb repairs, improving access and drainage.
The paths at Key Hill, especially in Section K were very prone to flooding and additional drainage systems were needed. The catacomb masonry needed attention due to deterioration over time, especially due to damage from ivy and other vegetation. The area above the catacombs once known as the 'sun dial garden' needed to be refurbished. Pathways needed improvement, especially to ensure level access at the entrances.
The railings and gateposts at Warstone Lane cemetery were removed in the post-war period when the chapel was demolished, causing a loss of visual identity. Recreating these features, along with the catacomb repairs this would form the main focus of the work in this cemetery.
The new railings and gate posts were designed based on the surviving piers on Icknield Street and the original architects plans. The chapel footprint would be visible once again in the form of a new 'garden of memory' on the site. There were concerns that the unique triple-tiered catacombs were at risk, with one section of retaining wall having already collapsed in 2007 which had been repaired and propped since then to prevent further instability. Like at Key Hill, the drainage needed repair and pathways needed resurfacing to improve visitor access.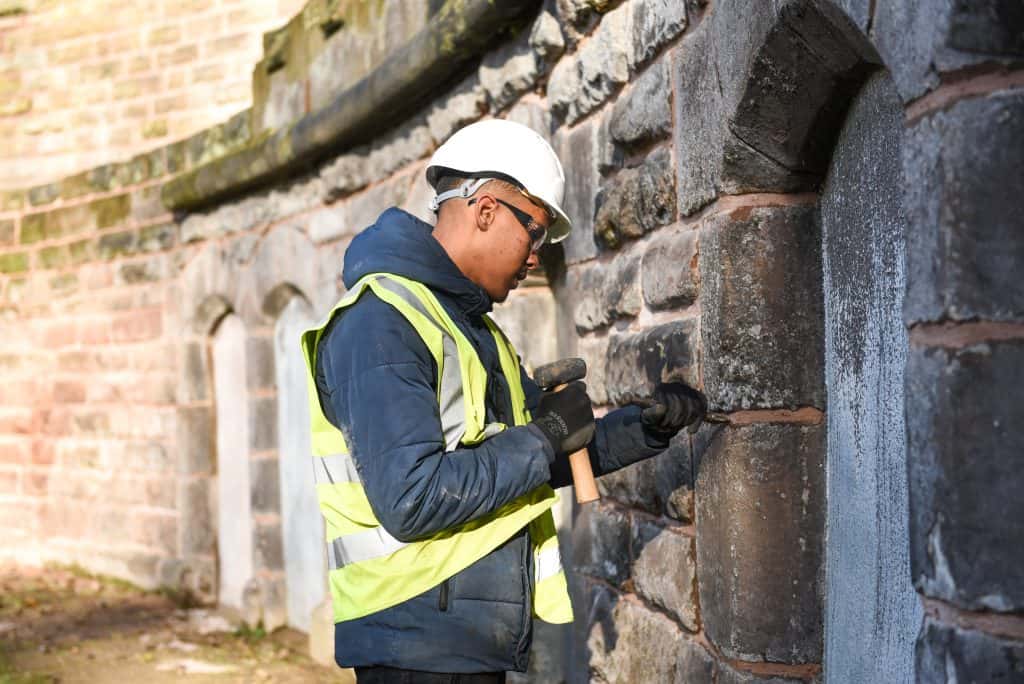 The work in the cemeteries began in July 2019 when Midland Conservation began phase 1 of the project. Midland Conservation work exclusively on period and historic buildings. They employ skilled craftspeople including stonemasons and bricklayers. Having previously worked on the restoration of the gate piers at Key Hill cemetery they were the ideal choice for this project. Phase 1 included work on the boundaries and catacombs and was completed in January 2020.
HFN landscapes began work from late January 2020 on the pathways, drainage and landscaping. The work was due to be completed by Summer 2020 but delays due to COVID-19 affecting supply chains led to the project being completed almost a year behind schedule in July 2021.