Covid-19 has presented a unique challenge for people experiencing grief and wishing to remember those who have died during the pandemic, because we have had to place restrictions on our usual rituals around death including funerals, wakes and memorial services in order to keep everyone safe. BrumYODO and Birmingham Hippodrome are bringing In Memoriam to Birmingham– an open-air art installation by internationally renowned artist Luke Jerram – for this year's A Matter of Life & Death Festival. Presented in the open air at Aston Park between 8th – 16th May, In Memoriam is a temporary memorial for the public to visit and remember all those who have died during the COVID-19 pandemic and to pay tribute to all the NHS health and care workers who have been risking their lives during the crisis. The artwork consists of 120 flags created from bed sheets arranged in the form of a medical logo. As part of In Memoriam there is also a chance for everyone to get involved by making their own flags, either to display at home, at Aston Park or one of the other flag displays around the city, plus an online gallery of all the artwork.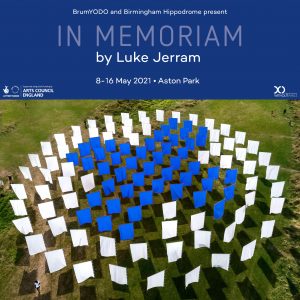 On Sunday 16th May from 11am – 3pm we'll be putting up an In Memoriam flag display in the new chapel garden at Warstone Lane Cemetery, with a chance to take part by bringing a flag you have made at home (instructions available here), making a flag on site (limited spaces due to social distancing), contribute the name of a loved one to the display or view the artwork. We'll also be giving a sneak preview of our JQ Poppy Project community tapestry so far, which is currently being created by Woolly Mammoth Stitch Works using over 300 poppies stitched by school children and volunteers.
If you would like to come down to bring a flag, add a name or view the flags there's no need to book – the event takes place outside and we have plenty of space for social distancing. However if you would like to make a flag on the day, please book a slot using out eventbrite link to make sure there is space and materials available for you. If you would like to take part but cannot get to the cemetery on the 16th May and don't have your own supplies at home, please email josie.wall@jqdt.org by Friday 7th May – we have a small number of flag making kits which can be posted to you for uploading to the online gallery.