Funded by Birmingham City Council Celebrating Communities Fund and Caring for God's Acre this project is part of our celebrations for the Commonwealth Games in Birmingham. We are bringing young people together with the local community, celebrating the stories of Brummies' past and present, and the looking at the contribution this city and the Jewellery Quarter have made on a world stage.
Project Introduction
Thanks to our recent work with JQ Townscape Heritage Project we know that the Jewellery Quarter has been linked to places as far flung as Trinidad and Australia, Russia and South Africa from as early as the 1850s. Today the Quarter is a creative hub for people from all across the Commonwealth and beyond so we want to explore and celebrate that during 2022 when we have this unique spotlight on the city.
The two local secondary schools (Jewellery Quarter Academy and City Academy)and their pupils really reflect Birmingham today, with over 40 languages spoken and and with cultural backgrounds from every area of the world coming together to make a community, including pupils welcomed in their role as refugee welcome schools. The schools' mission is to put their pupils at the heart of the JQ Community so we are running Our Stones, Our Stories as a term-long after school club for pupils from both schools.
What we are doing
After school workshops including guided tours, oral histories, gravestone recording and art
Teaching the children about the history of the Jewellery Quarter, the influence of the British Empire and Commonwealth on the area and the importance of telling their stories
Learning skills such as mapping, IT, photography and critical thinking
Want to get involved?
For the past few weeks our Heritage Club after school group have been recording gravestones in Key Hill Cemetery and identifying locations where there may be lost buried gravestones – many damaged stones were buried in the 1960s and so their stories have been hidden.
We are planning a Community Archaeological Dig, with our Heritage Club students, classes from both schools and the local community to excavate some of these missing stones. The excavation will be led by archaeologist Ian Mackey and his team from Explore the Past at Worcestershire Archive & Archaeology Service. No experience is necessary, and all equipment and training will be provided. This shallow excavation will not disturb any graves or human remains, we're only looking for gravestones which are buried within the top 1ft of soil.
Register here to join us on Friday 8th July 2022 between 11am-6pm
Project Outcomes
Running our JQ Colonial Connections Tour with Rahma Mohamed and Zak Saleh for the Heritage Club
Running a painting to music workshop with Saranjit Birdi inspired by Bombed: Full Circle (Warstone Lane Cemetery July 2021)
Running a Wellbeing Walk for refugee pupils at Jewellery Quarter Academy during Refugee Week
Recording gravestones in Key Hill Cemetery to add to the map created as part of the Caring For God's Acre Beautiful Burial Grounds Project
Recording Oral Histories with locals, families and friends to add to the People's Archive
Making a film about our findings to share with the schools and the community.
Gallery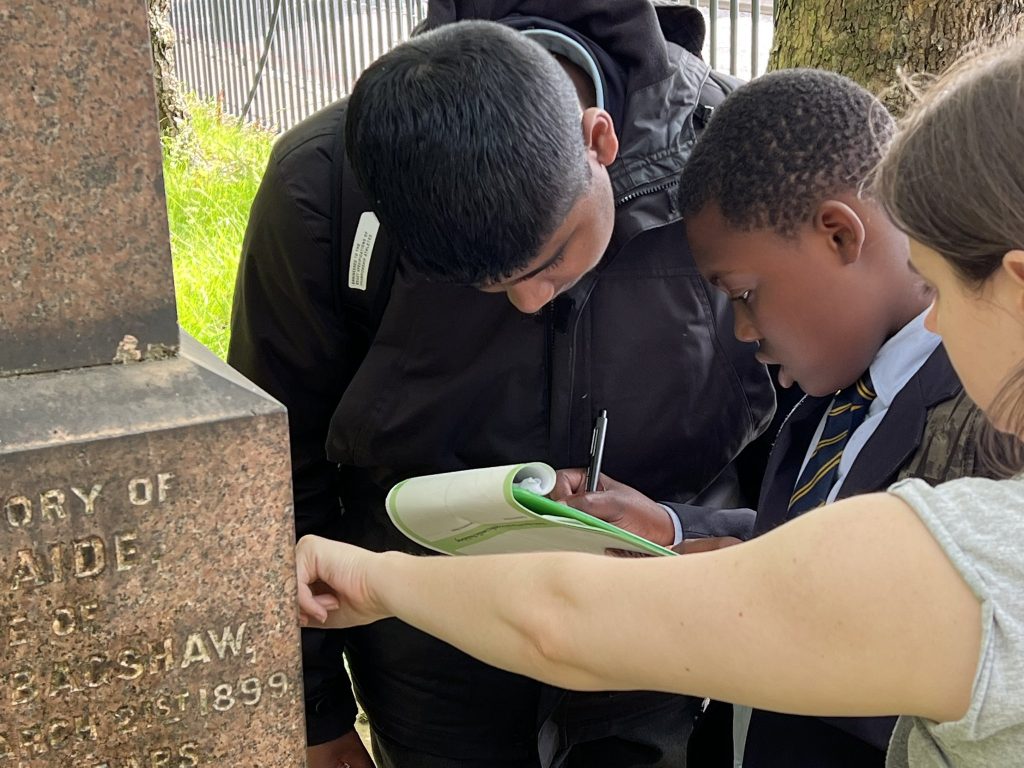 Learn more

Explore the Past project page
Birmingham City Council Celebrating Communities Fund