The Jewellery Quarter and Key Hill Cemetery were focal points in my Smith family from Birmingham. The Smith side of the family were engravers, printers, heraldic engravers, and paper manufacturers, centred around the Jewellery Quarter. Their wives, for many generations, tended to be daughters of jewellers who were firmly based in this area.
My 3 x great grandfather, Thomas Smith  (1797-1853), (whose wife was Harriot Wellings (1797-1876)), was the son of Thomas Smith and Anne (my 4 x Great Grandparents), who left Carr's lane Church in 1803 to become a founder member of Ebenezer Chapel, which was run on more Calvinistic lines. Unfortunately, I can find no other information about Thomas Senior and Anne (nee Ward), except that he was a pearl button maker from Mount Street.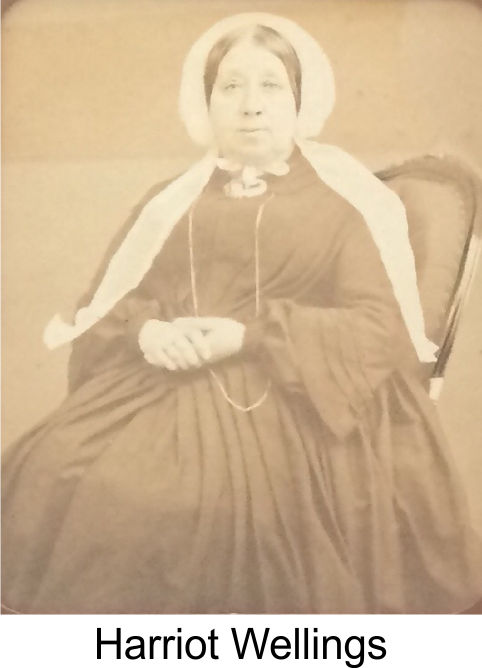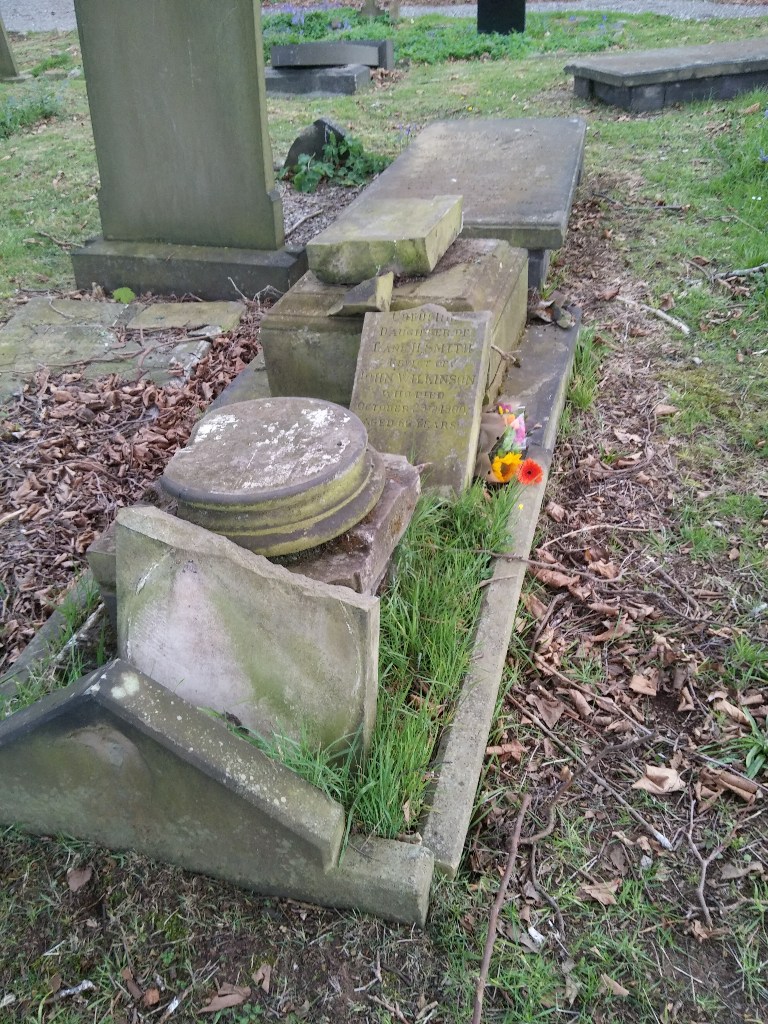 Cordelia Wilkinson, (1834-1900) Thomas and Harriot's daughter, who stayed home to look after her parents, is also buried with Thomas and Harriot.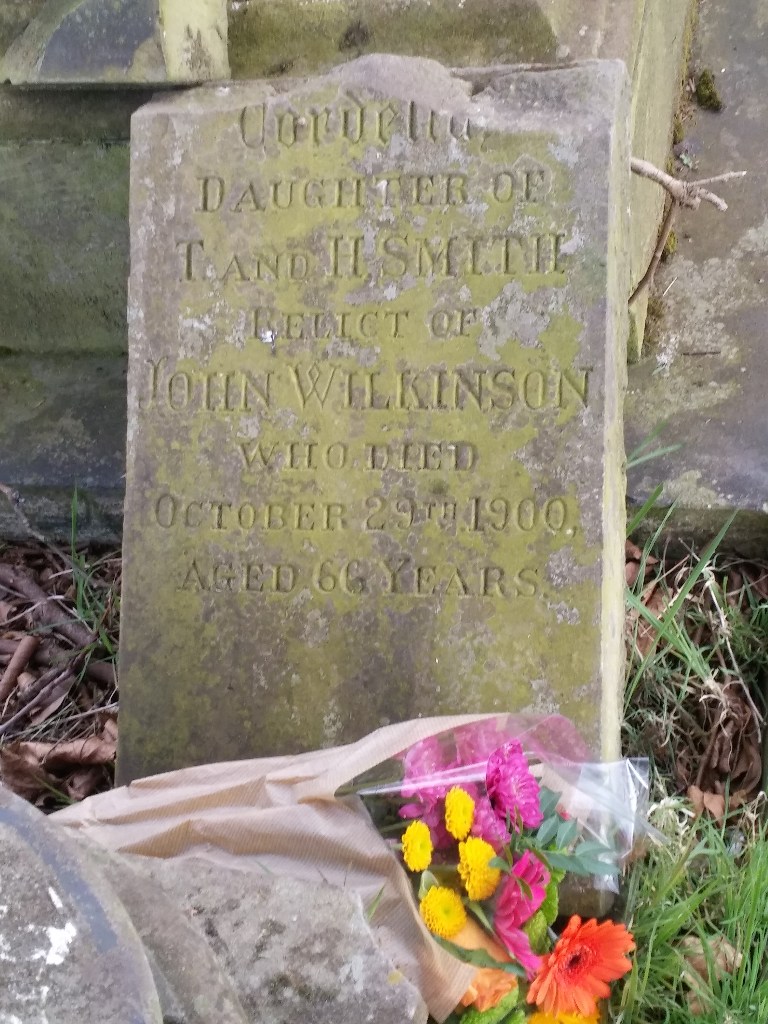 Their son George (1832-1905) and his wife, Emma Phillips Hamilton (1838-1917), who lived at 115 Vyse Street, are also buried at Key Hill, with two of their children who died in infancy; Harold Watson Smith born in 1869 and died aged 8 months and Emily Beatrice born in 1875 who died aged only 11 months. George was a paper and stationery merchant and also a Sunday school worker at Ebenezer Chapel.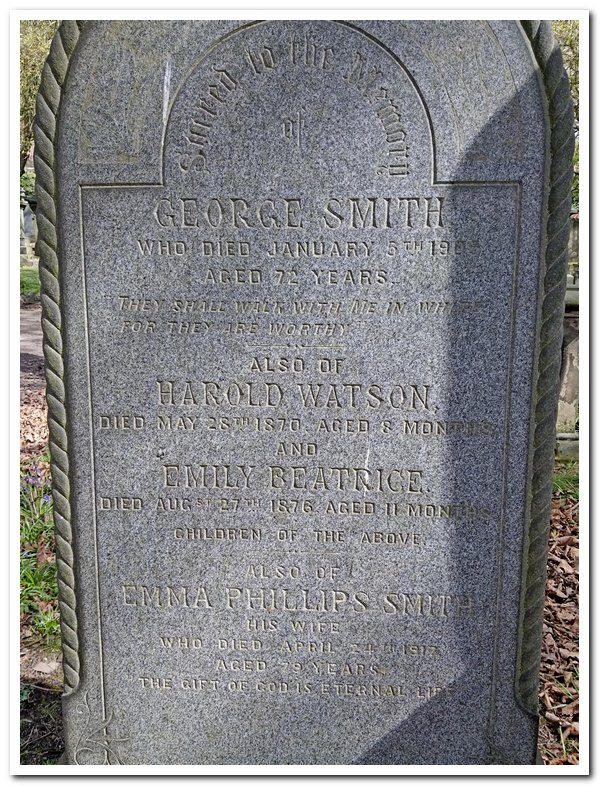 One of Thomas and Harriot's children; Eliza Wellings Smith (my 3x great Aunt), married James Jones Salt, and they lived at 9 Caroline Street, now a listed building, until Eliza died in 1852 of possible childbirth complications.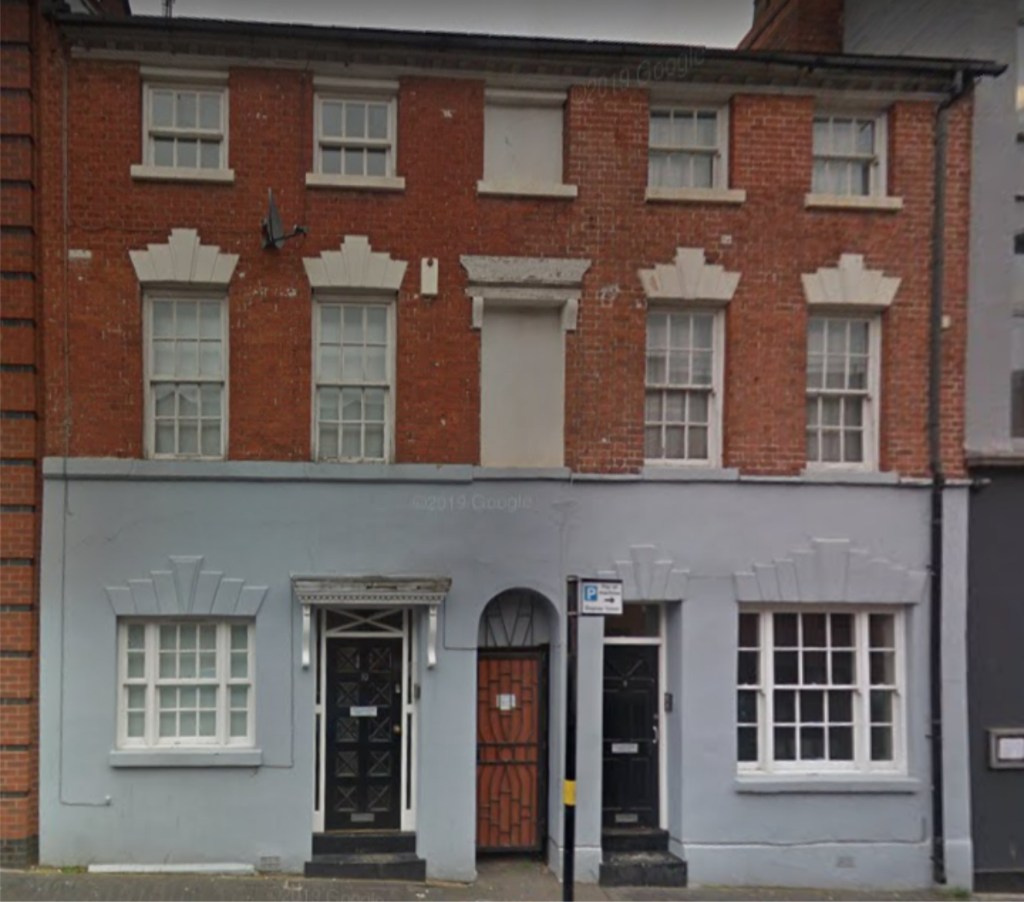 James Jones Salt bought a plot at key Hill for his family and himself (Section P, Grave 230), in which Eliza is buried along with James's sister, Sarah Ann who married Henry Bynner, vice consul of Trieste who was the first person to use shorthand in a court of law. James remarried after Eliza's death and his second wife, Emma (nee Gubbins) is also buried in this family plot. Emma was his servant who supported James in court when he was accused of forgery and "uttering". Emma was obviously a very loyal servant!
However, the most interesting member of my family, my 2-x great grandfather, Edward Smith, was one of William Murphy's right-hand men. Edward and his family became intimate friends with Mr & Mrs Murphy. Murphy died in Edward's arms, after he had been beaten up by Catholic protestors. There is a very graphic death bed description from the newspapers:
Mr Murphy entered into his rest on Tuesday evening on the 12th instant, at seven pm, and could any who had doubts respecting his sincerity and Christianity have witnessed his death-bed, and heard from his lips during the last few solemn hours of his life, the expressions of his entire dependence upon Christ, (as did many of his friends) all such doubts would have been dispersed, as this last proof forms the strongest one of his Christian character. "His end was peace". He has "fought the good fight", he has "kept the faith", and is now sure to receive his crown of glory. ….."
Edward described in Murphy's funeral sermon, "the chamber of the dying saint", how they all prayed together, and Edward sang hymns. Friends came to sit with him, while his widow remained by his side. The description is worthy of any Victorian melodrama:
"I went to his side and he took my hand in both his and said, "Bless you".
Feeling faint he asked for something to drink, and then turning to his wife, who sat by his side, he said with tears in his eyes,
"Let me kiss you good bye; I have nothing to leave you; but the Lord will provide."
And his wife in tears said,
"Yes dear, don't you weep for me; the Lord will provide."
He then became calm and peaceful, and in the stillness of that death chamber, as we were watching for the departure of his spirit to that brighter world above, a friend said,
"I wonder if he knows us",
and he said looking around the room,
"Oh yes, I know you all. I see your bright faces, but I shall see them brighter above."
In a short time after seeing that death was very near, he was resting his head upon the bosom of his dear wife, and thinking her deep emotion might disturb him in death, I asked her to let me come and support him, and I and our friend, Mr Langley supported him, and in a few moments his head drooped, and he gently "fell asleep in Jesus".
His end was indeed peaceful, and thus ended the life to his heavenly master. I need not attempt to describe anything further. I will not harrow up the feelings of her who is left behind a widow, whom He will provide for."
It was Edward's brother-in-law, James Jones Salt, then a funeral director, who dealt with the funeral offices and Edward took the service. This is a report from the Birmingham Daily Post on 19th June 1872, which will indicate the mindset and ethos of the congregation;
"The street was filled with a dense crowd, but the police succeeded in keeping good order. A portion of the crowd jeered and cheered as the hearse (the procession was a hearse drawn by four horses and followed by fourteen carriages) passed, and some individuals demonstrated their antipathy to the deceased in a more marked manner……. The windows along the street were occupied by spectators, and the crowd availed themselves of every point from which a view could be obtained. When the cemetery was reached, a great rush was made for the entrance but through the exertions of a strong body of police…..the gate was kept closed, and only those in the cortège and a few friends were allowed admission. Up to this point the hearse may have been guarded by the police. The undertaker was Mr Salt of Bull Street and his arrangements and those of the police were very efficient……While the service was proceeding, the surging crowd outside yelled and shouted in a very disorderly manner, and one youth who threw a stone was taken into custody. The officers who took him were stoned, but not much hurt.
The following is the inscription on the coffin, which was covered in black cloth; "The Lord gave and the Lord taketh away." William Murphy died March 12, 1872. Aged 48."
William Murphy is buried in Key Hill Cemetery, in Section I, Grave 306. A death mask of William Murphy was presented to the museum by Edward Smith's son, Ernest Wilberforce Smith (my Great Great Uncle), which suggests that Edward Smith was the person who arranged for the death mask to be made.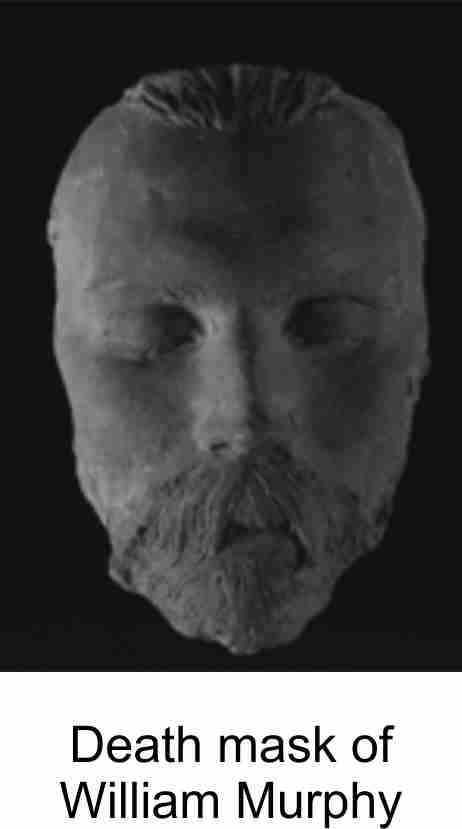 After Murphy's death, Edward and his family kept Mrs Murphy under their wing, often fundraising for her keep, or to keep Murphy's church open. Edward was pastor of Murphy's tabernacle in Wrottesley Street, for 10 years. The picture below is of Edward when he was pastor.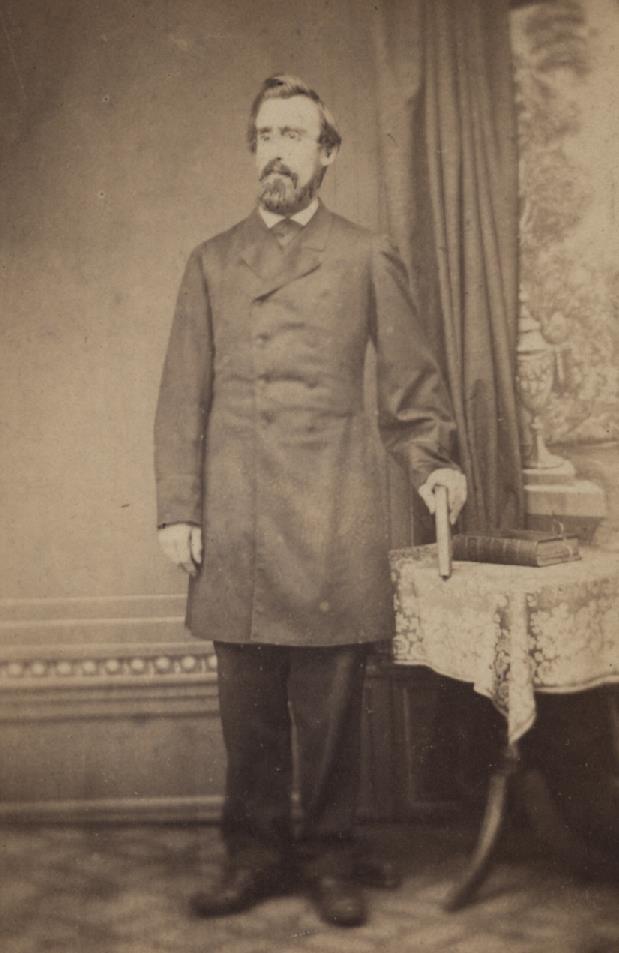 When Edward died there were many notices in the local papers, including this one,
DEATH OF MR EDWARD SMITH OF HANDSWORTH (11th Dec. 1910)
Mr Edward Smith of 131 Leonard Road, Handsworth, who has just died in his eighty fifth year, was actively associated with Murphy in the riots in Birmingham. He was one of Murphy's right-hand men, and it was in his arms that Murphy died. For ten years he was the pastor of the Wrottesley Street Chapel which was founded by Murphy. He was the founder of the firm of Smith Brothers, printers and paper merchants, of St Paul's Square, Birmingham, and was the oldest printer in the city. One of his sons, Mr Tennyson Smith, is a well-known temperance lecturer."
The death of Edward was the last link with Key Hill Cemetery.
Article contributed by Elisabeth Medley-Smith from "Mr Smith's God" Copyright protected.
Elisabeth Medley-Smith's books "Mr Smith's God" and "Mr Smith's Family" are available to purchase via online retailers, or can be borrowed from the JQ Cemeteries Project collection, please contact josie.wall@jqdt.org if you would like to read them.