In an unassuming grave at the heart of Key Hill cemetery in the Jewellery quarter, lies to rest Miss Marie Beauclerc. Her headstone notes her contribution to the late Mr George Dawson in the publication of his historical sermons. This is a modest account of a remarkable woman who perused her passions despite living in a political era whereby gender and class discrimination was rife. Born to a simple Merchant in St Pancreas in 1845, Maria Bethell, as she was then known, lived an unassuming life.
As a very young child Maria Bethell and her older twin brother and sister were sent to Mr Browning's Boarding School in Weston near Bath where their surname was changed to Beauclerc. Marie was forced to leave this school at age 9 due to the death of her father. Her mother arrived in Bath shortly afterwards and established a business as an "artiste in hair"  in which Marie helped.
While living in Bath, Marie first discovered Isaac Pitman's book titled Phonography, a book which detailed a shorthand writing system designed to revolutionise journalism, in some waste paper and began to teach herself. On her thirteenth birthday in 1858, Marie moved to Birmingham with her mother who opened a grocer's shop there. During a holiday in Bath in 1859, Marie organised to have shorthand lessons sent to her through the post to Birmingham, allowing her to continue learning.
Marie felt that anybody, regardless of educational status or class, had the potential to learn shorthand. After teaching herself shorthand, she was hired by Mr George Dawson, editor of the Birmingham Morning News. As his associate she used shorthand to report the weekly lectures at the Perry Barr institute and many other lectures, public meetings and important conference proceedings. It is this work that led Marie to be termed the first female reporter in the country.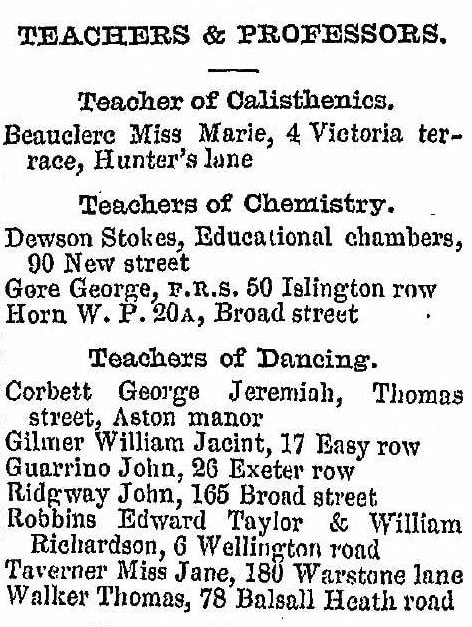 After this Marie went from strength to strength, in 1876 she was a permanent teacher and member of both the Perry Barr institute and the Birmingham and Midlands Institute . Opened by Prince Albert and endorsed by Charles Dickens, the institute was highly respected and was the proprietor of the 'penny lectures'. These included lectures for 'Shorthand and Typing' led by the first female teacher at the institute, Miss Beauclerc. Inspired from the success of her classes at the institute and keen to peruse shorthand as its own discipline, Marie established a Shorthand Writers Association in Birmingham and delivered a passionate paper at the International Shorthand Congress and Phonographic Jubilee in London.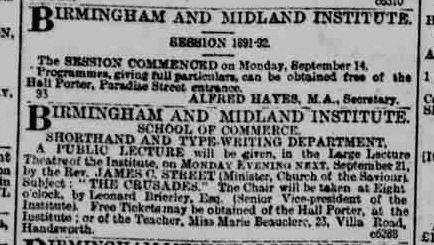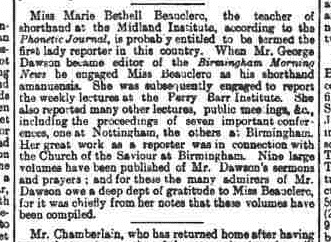 Tales of Marie's passion for writing and shorthand are not in short supply, especially at her later posting at Rugby's all boys school in Birmingham. This was the first-time shorthand has been taught at an English public school and is tantamount to Marie's determination to break down barriers in regards to class and stature in education. This was the first time a woman had been appointed to teach at an all-boys school, but for Marie it was just another in a long list of firsts. The headmaster at the time, Dr Percival was deeply fond of Marie, expressing his satisfaction at the excellence of the teaching from Miss Beauclerc.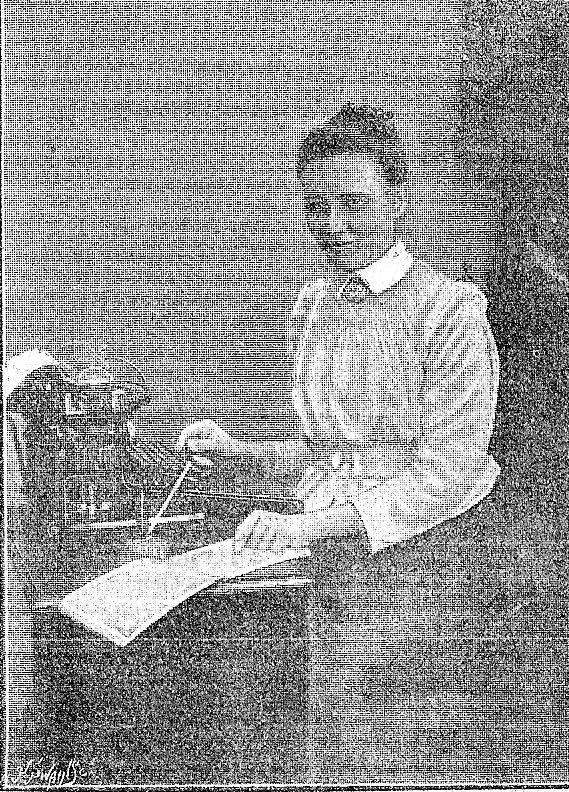 By the time Marie has passed away aged 51, she was the embodiment of a new age of feminism. She had succeeded at making name for herself as both a reporter and teacher in Birmingham and within the phonography and shorthand communities around the country. At the time of her retirement she had brought about a four-fold increase in the class size at her position as a shorthand teacher at the Midlands institute, whilst also being the driving force behind the development of the Shorthand writers association in Birmingham.
Further Reading about Marie Bethell Beauclerc
Marie Bethell Beauclerc; First Female Teacher at Rugby School by Tim Mercer

The Birmingham and Midland Institute : the Institute's contributions to Birmingham 1855-2005 by Rachel Waterhouse

A Remarkable Victorian Woman – Marie Beauclerc by Helen Blain (with thanks to Helen for her comments on this blog)