We asked Richard to undertake this research to learn more about John's life and investigate a theory that John Churchill may have been a relation of Winston Churchill because of the connection to Woodstock, Oxfordshire where Winston Churchill was born at Blenheim Palace.
I have researched the Churchill line of John Churchill (1816 – 1894, Chemist) as far back as approx. 1710, unfortunately, I could find no link to Winston Churchill's family tree. Winston Churchill's family tree in Blenheim Palace and Oxfordshire started when John Churchill bn 1650 in Devon was made 1st Duke of Marlborough in 1689 who was Winston Churchill's Grandfather x6. However, the Churchill name in Oxfordshire was very common in the 18th and 19th Century, and there is even a Parish in Oxfordshire called Churchill.
Chemist on New Street
John Churchill married Emily Coles in Woodstock, Oxfordshire on 28th June 1843, and his age on their marriage certificate suggested he was born in 1821, however, I have traced his census entries for the years after, and his baptism, and he was actually baptised on 14th August 1816.

From the 1847 until his death, John Churchill was a chemist and lived and worked on New Street, Birmingham. I have looked through the trade directories for John Churchill, and I found his occupation listed as a dispensing chemist / pharmaceutical chemist in trade directories from 1852-1872. His address is listed as 31 New St, until an 1858 trade directory when it changes to 46 New St.
This advert for John Churchill's business in 1853 from the Birmingham Journal shows that one of his specialties was 'Briet's Gasogenes' which were soda water machines for 'aerating every variety of summer beverage'.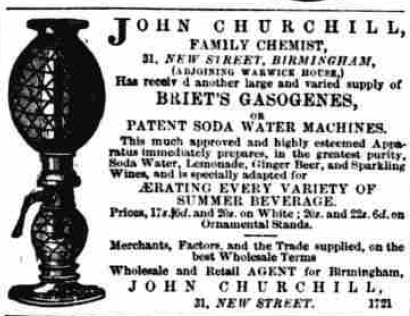 John also put his own name on a product for Chapped Hands call 'Churchill's Emollient' which was for 'immediately healing Chaps and restoring any Roughness from the Skin'.

There are also several adverts for products which list John Churchill as a stockist. Some of these products include 'Rowland Whitney's Never-Failing Tincture' for toothache, 'Walton's Patent Metallic Flesh Brush' and 'Dr King's Dandelion and Quinine Liver Pills'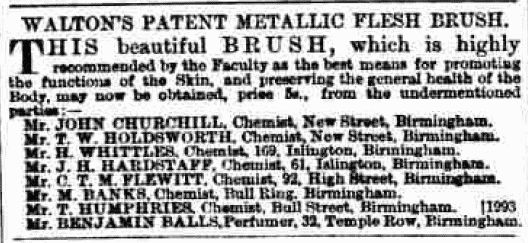 John Churchill is also mentioned repeatedly in adverts for Dr de Jongh's Light-Brown Cod Liver Oil advertised in the Birmingham Gazette and the Birmingham Daily Post in 1861-5, often with outrageous headlines including saying it was the cure for the invalid, child mortality, pneumonia and TB. Adverts even tried to claim that shops who would not sell it were disreputable.
Family life
John and Emily had three boys:
Walter John Churchill born 1846 in Birmingham, and he was a pharmaceutical chemist. Walter married Georgina Carter in Lewknor, Oxfordshire in 1878, but they had no children. After his father's death Walter took over the running of the Chemist shop on New Street for a few years before he moved his business to Edgbaston, Birmingham. Just after 1900 he retired to Hastings with his wife. When he died in 1904, he left £2390 to his wife.
Arnold Benjamin Churchill was born 1850 in Birmingham, and he was a banker's clerk for Lloyd's Bank. Arnold married Kate Jefford Haycroft in London in 1878. They lived in Upper Clayton, Middlesex and had 8 children. He died in 1917 he left £3166 to his wife.
Francis William Churchill born 1852 in Birmingham, and he was a Chemist Assistant. Francis married Lucy Florence Carter in Wallingford, Berkshire in 1900. They lived in Wallingford together, but they had no children. When he died in 1912, he left £2522 to his wife.
John's parents were Benjamin Churchill and Matilda Townsend. Benjamin Churchill and Matilda Townsend married in Oxford in 1796. Benjamin Churchill's occupation was a gentleman and he was possibly the mayor of Woodstock, and he had 7 children with his wife in Woodstock, Oxfordshire. Their names were Benjamin John Churchill, Harriet Elizabeth Churchill, James, John, Matilda, Samuel, and Mary Townsend Churchill. After Benjamin died in 1830 Matilda stayed in Woodstock until her death in 1844.
Benjamin's parents were John Churchill and Mary Weller. John Churchill and Mary Weller married in Woodstock, Oxfordshire in 1766. It appears that Benjamin was their only child.
John's parents were John Churchill and Philipa. John Churchill and Philipa had 5 children baptised in Deddington, Oxfordshire from 1736; Mary, Henry, Philipa, John and Bartholomew.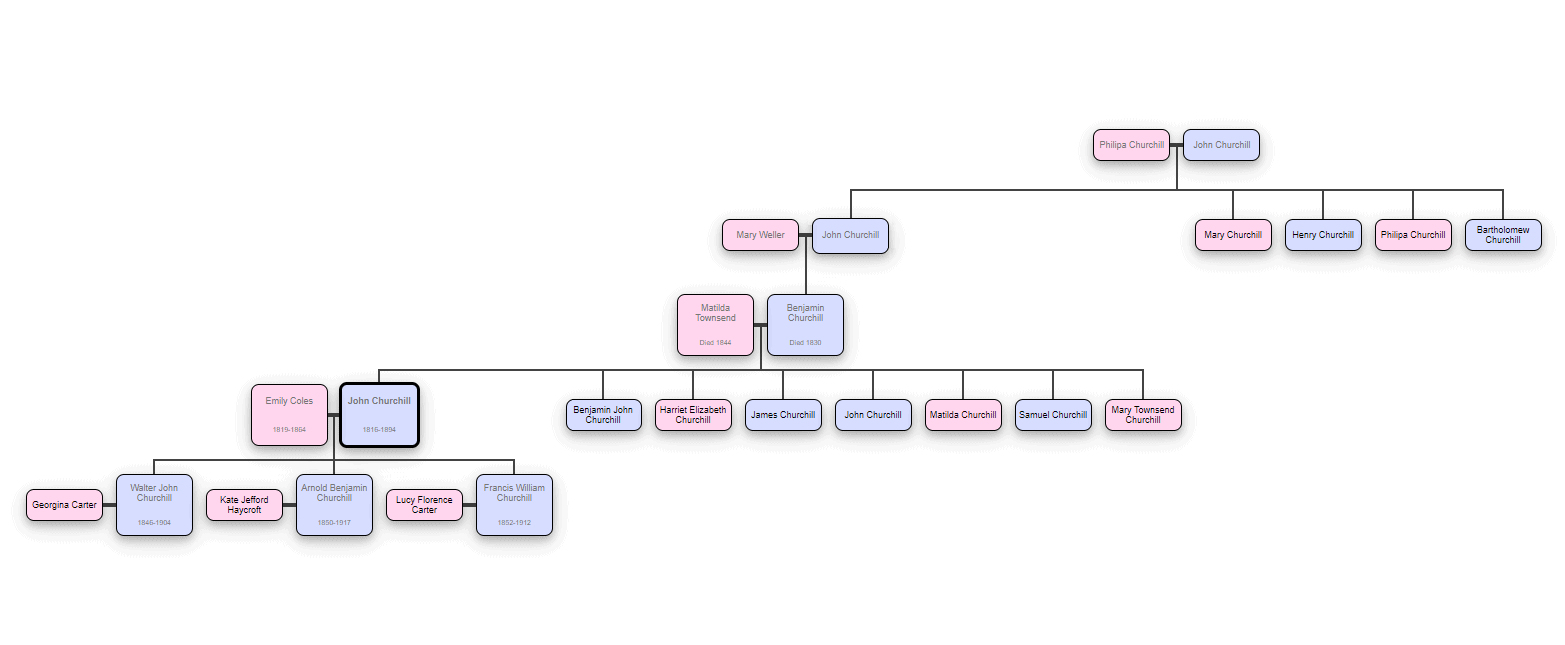 Although she is mentioned in the inscription on the memorial, the burial records showed that Emily wasn't buried with her husband John. He is listed as the only burial in that grave. I searched the records to find out where she was buried, and discovered that when she died in 1864, she was buried in a public grave (interment number 12290), although the online records don't indicate the exact location of her grave. We hope to find out more by looking in the burial registers at Handsworth Cemetery when the office reopens to the public.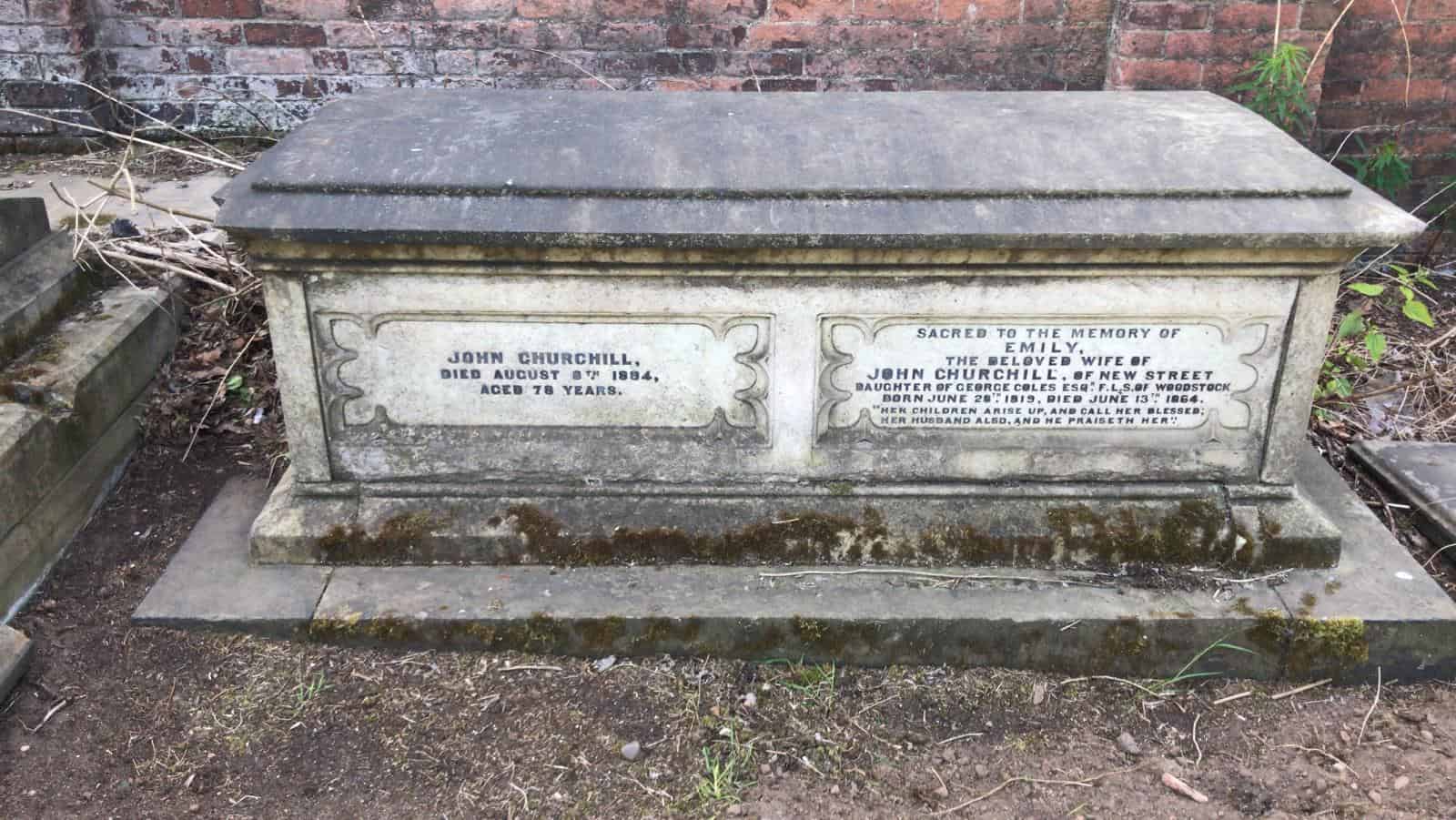 Further reading
Victorian pharmacy : rediscovering forgotten remedies and recipes by Jane Eastoe